May 06, 2012 Key Performer 2 - almost done...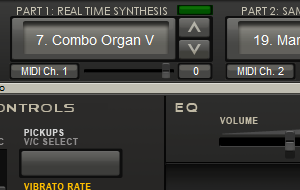 It's been almost one year since the official announcement of the new Key Performer version 2. I know, it's a long time, but I swear I have been working on it night and day... well... sort of! :)

Ok, the truth is that I have started many other projects together and have been particularly busy with the development of the sound engine of one of these (I still can't say what!) and, speaking of KP2, I was never happy with what I had accomplished from time to time, so I started filling it with all sorts of good stuff I could come up with, so here's a partial list of all the new features:





Bi-timbral, part 1 is dedicated to real-time synthesis engines, part 2 is dedicated to sampled instruments
9 real-time synth engines: EP (with 9 presets), DX Piano (with 9 presets), Wurl, VA Synth, Tonewheel organ, and the new Trumpet, Clavinet, Combo organ F, Combo organ V
10 reverbs, 7 amps
New Advanced MIDI Learn function with the possibility to save and load MIDI maps
...All this in a single instrument, easy to use, fun to play and loaded with many useful gig-ready sounds.

The release is planned by the end of September, 32 bits Windows version first, VST and Standalone. Mac version and 64 bits version will come later.

Stay funky! ;-)
Guido.