May 06, 2012 Key Performer 2 - almost done...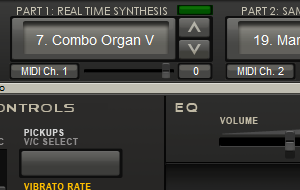 It's been almost one year since the official announcement of the new Key Performer version 2. I know, it's a long time, but I swear I have been working on it night and day... well... sort of! :)

Ok, the truth is that I have started many other projects together and have been particularly busy with the development of the sound engine of one of these (I still can't say what!) and, speaking of KP2, I was never happy with what I had accomplished from time to time, so I started filling it with all sorts of good stuff I could come up with, so here's a partial list of all the new features:





Bi-timbral, part 1 is dedicated to real-time synthesis engines, part 2 is dedicated to sampled instruments
9 real-time synth engines: EP (with 9 presets), DX Piano (with 9 presets), Wurl, VA Synth, Tonewheel organ, and the new Trumpet, Clavinet, Combo organ F, Combo organ V
10 reverbs, 7 amps
New Advanced MIDI Learn function with the possibility to save and load MIDI maps
...All this in a single instrument, easy to use, fun to play and loaded with many useful gig-ready sounds.

The release is planned by the end of September, 32 bits Windows version first, VST and Standalone. Mac version and 64 bits version will come later.

Stay funky! ;-)
Guido.
April 10, 2012 New sounds for Key Performer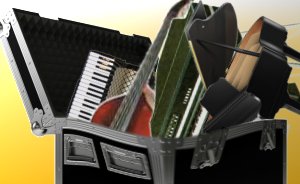 It's been a long time since my last news announcement here. I have been busy with the development of many many things that are still... in development! Oh, programming good stuff takes a lot of time! But I took the time to compose and upload some new samplesets for Key Performer, while waiting the release of the new Key Performer 2. This time the new sounds are two new acoustic pianos (which is actually the same piano sampled in two different places with two different equipments), plus a new version of the CP-70 electric grand piano, three accordion sets, an upright bass (sampled in a nice jazz-oriented studio) and a combo split of bass and piano. Get them here for free!

Hope you enjoy! ;)


---
Related link
May 28, 2011 Announcing... Key Performer 2!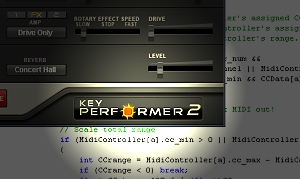 Yes! Something is cooking in my oven... This is the time of Key Performer, the GSi all-purpose keyboard instrument, that is about to hit the web with a brand new version. Not a simple update, but a huge expansion of the original concept. First of all, Key Performer 2 is now bi-timbral, the interface has been split in two parts: Part 1 is dedicated to the real-time synthesis instruments, and Part 2 is dedicated to the sampled instruments. Everything has been conceived to work with two parts that can be layered one on top of the other, or can be played in split mode on one keyboard, or from two separate keyboards sending different MIDI channels. Effects can now be assigned to either part or both. Plus, new effects, new instruments, new functions, etc.


Stay tuned and keep having fun! ;-)


January 12, 2011 Three new free samplesets for Key Performer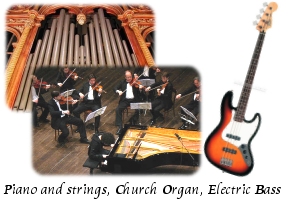 Three new samplesets have been released for Key Performer: Piano and Strings, Church Organ and Electric Bass. These new sounds will complete the sound palette of this useful and well sounding virtual instrument by adding some of the most used sounds by stage keyboardists. The Piano and Strings combination is a must have for ballads and pop songs, the Curch Organ can be handy in case you're playing at a wedding :) and the Electric Bass is there in case your bassist breaks a string :)
If you are a Key Performer user you can't miss these free downloads, get them hot here! ;)



---
Related link
June 20, 2010 VB3 updated to version 1.4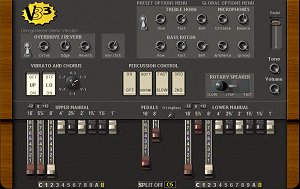 A new update for VB3 with important changes, fixes and a couple of good news!

What's new in version 1.4:

- Added new Rotary Speaker simulation
- Added option to choose the destination of MIDI CC# 64 (sustain, rotary switch or assignable)
- Added new item in the DAT (ini) file for the CC# of rotary brake for the "2 controllers" option
- When the organ preset octave isn't active, keys below the first C and above the last C play folded-back octaves
- When switching between organ presets something made the switching get slower over and over. Fixed.
- When switching between organ presets while playing, an audible crackle was produced. Fixed.
- Now the "Midi Learn" takes the correct Channel even when the Split is active.
- Now the Split function leaves the pedalboard available on its own separate channel
- The pedalboard tapering is now correct (sub-harmonics were missing on some notes)
- When the host saved a project, VB3 muted its sound and caused an audible click. Fixed. *
- * Now programs and banks are saved as "custom chunks"
- * Reorganized the .DAT file and renamed it to .INI and moved the .FXP .INI and .LIC file locations on Mac to the User Library


If you're updating from a previous version, please read the Manual's Addendum PDF, and if you're a Mac user, read the ReadMe file you find in the zip archive.

But most importantly... keep having fun!!! :)




---
Related link