April 28, 2014 VB3 1.4 x64 VST for Windows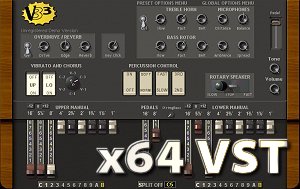 VB3 version 1.4 recompiled to be x64 VST for Windows. There's no difference with the 32 bit version except that the support files (VB3.ini, VB3.lic, VB3.fxp) are now stored in the System User's path. This is to be intended as a temporary release until the next version is ready to be released to the public. Only the VST instrument version is available. The FX variant is not available in VST x64. Mac users please be patient, unfortunately programming on Mac requires more time.


---
Related link
March 10, 2014 Tony Monaco introduces the GSi BURN
---
Related link
February 02, 2014 From abandonware to rescueware: Key Performer 2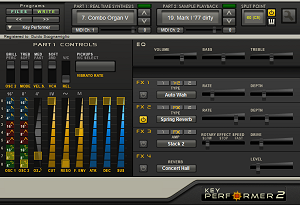 On March 2009 GSi launched Key Performer, an hybrid sample player and real time synthesis instrument offering a complete palette of sounds largely used by keyboard players. Well, I have been working hard on a version 2 that would offer new sounds, new features and bi-timbrality, but eventually I abandoned the project in mid-2012 because I gave priority to other projects. Now I was thinking of offering this plugin as a free update to all existing KP1 users, in a beta version, Windows only (32 bit and 64 bit VST) and without documentation. What do you think?

"Like" our Facebook official page and leave us your comments!


---
Related link
November 03, 2013 BURN Editor / Librarian released!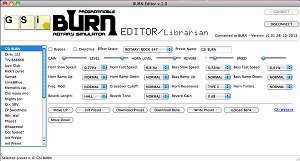 Seems incredible how many things can be done with a small box like the BURN! Not only it's a killer rotary simulator, it is a multi effect and a totally programmable versatile unit. And now its possibilities are further expanded thanks to the PC Editor/Librarian, which will allow the user to edit, organize, backup, restore and share their presets.

The Editor can be used either online (BURN connected via MIDI) or offline (BURN not connected). Everything you do when the program is online is automatically reflected to the BURN. And if you don't have a BURN yet, you can try the Editor just to discover how a preset is organized and which parameters you can customize.

Have fun!


---
Related link
October 28, 2013 BURN Firmware update version 1.01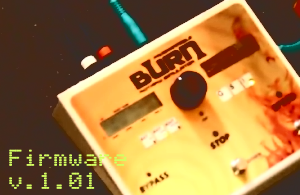 The new BURN firmware version 1.01 is now available. Please download and install it into your BURN, this will improve it and fix a few bugs. Most importantly, this firmware features a new "Rock 147" rotary algorithm derived from the same effect also found in VB3 1.4.

Other important changes feature the addition of a new template for controlling rotary speeds via spring-loaded Pitch/Mod joysticks, a new option for boosting the digital output, and the support for the upcoming Editor/Librarian.

Please read all documentations prior to sending the firmware to the BURN. The procedure is very easy and is explained in detail in the accompanying pdf guide.

Have Fun!


---
Related link