| | |
| --- | --- |
| Miles'tone - Virtual trumpet | v. 1.0 |



Please note: this virtual instrument is only for Windows. Please test the free demo version!
Compatibility Alert: this plugin was compiled in SynthEdit. There's a known compatibility issue between plugins compiled in Synthedit and multi-core CPUs. It's adviced to deeply test this plugin before proceeding to purchase.
This will be fixed with the future release of Miles'Tone version 2.
Description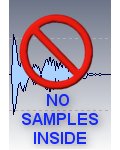 Miles'tone is a simulation of a trumpet.
It is based on a mixed use of traditional synthesis (oscillators, filters) and physical modeling synthesis (tuned delay lines, resonators), but more importantly it reflects the behaviour of a real trumpet, reacts to pitch changes and air pressure in a very natural way, and has a nice and warm timbre.
It has been conceived to work with a Wind Controller but it can also be played with a traditional MIDI keyboard thanks to the built-in dedicated envelope generator.

Miles'tone doesn't use any samples.


Panel Controls
MIN. EXP. / MAX. EXP.

Set respectively the minimum and the maximum air pressure which can pass through the tube. You can also consider these as the minimum and the maximum volume levels, even though the EXPRESSION parameter doesn't affect just volume, it also reflects on the timbre and many other aspects of the instrument.



RESONANCE

Establishes the quantity of residual air that remains inside the tube before a new note is played. This also may increase or decrease the presence of certain articulations.



AIR NOISE

Adjusts the level of the air noise you hear along with the trumpet's sound. According to the playing style and the microphone positioning (in a real recording session), a trumpet may contain more or less air effect.



BEND RANGE

The total range of the pitch bender. An expert trumpet player may easily execute fast pitch changes (also known as "glissando") even wider than a full octave.



TYPE SELECTION

Click the icon to switch between a normal (unmuted trumpet) and a muted trumpet sound. The muted sound simulates the use of a "Harmon mute".



EXPRESSION

AT: Aftertouch. CC: Continuous Controller.
Choose the type of controller you wish to use for the expression parameter. If you set it to CC, also choose the appropriate CC number.



VIBRATO

AT: Aftertouch. CC: Continuous Controller.
Choose the type of controller you wish to use for the vibrato effect. If you set it to CC, also choose the appropriate CC number.



EXTERNAL CTRL / INTERNAL EG

If you want to use an external physical controller (eg.: a wind controller) for the expression parametter, set this to EXTERNAL. Otherwise, set it to INTERNAL and use the built-in envelope generator.



A / D1 / BP / D2 / AIR

A: Attack
D1: Decay 1 - the first decay time, usually quite short.
BP: Break Point - the halfway point between the first and the second decay.
D2: Decay 2 - the final decay stage, usually quite long (depends on how much air remains in the players's lungs and mouth).



INSTRUMENT POSITION

Use this X/Y Pad to position your virtual trumpet in an imaginary room, close or distant from the two microphones.



ROOM SIZE

Set the size of the virtual room. Set this at minimum for an average studio size environment (about 80 square feet).



MID BOOST

Just like an equalizer, this gives more punch to the medium frequencies and slightly warms up the timbre.



AUTO VIBRATO

Sets the effect of automatic vibrato. The more loud you play, wider is the vibrato. Set here the maximum width.



VELOCITY LPF

A gentle low-pass filter is controlled by MIDI velocity, in order to soften notes when playing softly.
When set to zero, this feature is completely switched off.
About Wind Controllers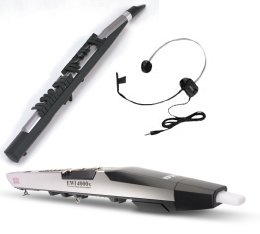 A wind controller is basically an electronic wind instrument, some of them can produce sound on their own, having a full synthesizer built-in, others just send MIDI messages to an external module. Some are shaped like a real-life wind instrument (a sax, a trumpet) while others are just interfaces for a more complex system, mostly referred to as "breath controllers", like the Yamaha® BC-3. It is an accessory which can be connected to master keyboards and/or synthesizers like the CME® UF or VX series MIDI controllers, or Yamaha Motif / S90 series, Yamaha DX7, AKAI EWI and a few other models. Using such device, you can control whatever aspect of the sound with your breath, for example you can control the cut-off frequency of a filter blowing into this appliance, and according to the synthesizer's parameters, you could brighten the sound when you blow hard and viceversa.
The principle of breath controllers is also used for entertaining disabled people, with a new kind of musical instrument called the Magic Flute.

Miles'tone uses physical modeling syntesis in order to give you the most expressive sound with the use of a wind controller. You can use one of the BC marked presets to use your own wind controller or you can simply choose the appropriate MIDI CC number to control the expressiveness of the instrument.



---
Already got your license key before October 2008 and you need to re-authorize your plugin? The link you received in the registration email is leading to a 404 page, use the new link instead.
Some frequently asked questions related to this product:
- Is Miles'tone compatible with Mac OSX?
- I'm using Windows 7/Vista 64 bits and I can't authorize Miles'tone, it will always start unregistered.

The great convenience of shareware software is that you can try a free DEMO version before deciding to pay for the FULL version. This gives you the opportunity to test if the software works correctly on your computer and if it meets your needs. If you haven't done it yet, download the free DEMO now!

Most of these softwares have a nag screen and a nag noise protection. In DEMO mode you'll hear a white noise burst for 2 seconds every 10 at a very low volume. There are no other limitations, unless otherwise stated in the product's description page.




Click the

icons to play.
DMC-122
Gemini
BURN
KeyPerformer
VB3
MrRay73mk2
ZD6
EG70
MilesTone
GS-201
Type4
ShakePad
MrTramp2
TimeVerb
WatKat
Legacy