August 12, 2014 GSi joins SoundRadix for a discounted bundle!

Get SoundRadix "32 Lives" and pick one of VB3, MrRay73mk2, EG70 or ZD6 for only US$ 125,00 (25% off!).
April 28, 2014 VB3 1.4 x64 VST for Windows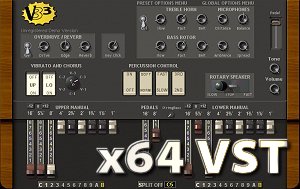 VB3 version 1.4 recompiled to be x64 VST for Windows. There's no difference with the 32 bit version except that the support files (VB3.ini, VB3.lic, VB3.fxp) are now stored in the System User's path. This is to be intended as a temporary release until the next version is ready to be released to the public. Only the VST instrument version is available. The FX variant is not available in VST x64. Mac users please be patient, unfortunately programming on Mac requires more time.





March 10, 2014 Tony Monaco introduces the GSi BURN





Browse the news archive - View all the products - Read the F.A.Q.