MrRay73 Mark II




Current Version:

2.0.3
Compatibility:


Download:


Price:

EURO 50.00
Click to buy:


Instrument Description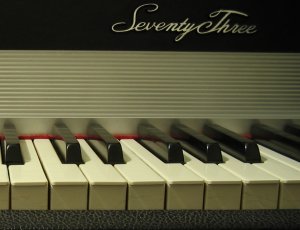 MrRay73 Mark II is a digital simulation of the famous american electro-mechanical piano of the seventies, invented during World War II by a music teacher, Harold B. Rhodes (1910 - 2000), and widely used in almost all musical genres ranging from soul/black music to jazz, blues, modern and pop. This instrument has rapidly become a legend, and is still used today, altough samples have replaced the real thing so that very often music producers use huge sample libraries or hardware keyboards / workstations to achieve this kind of sonority, and often the result is a cold and 'dead' sound, with no vitality, no warmth, nothing that even compares to the unpredictability and genuineness of the real thing.
In 2007 an enterprising and far-seeing american businessman has started a new Company with the aim to re-manufacture the piano using the same recipe of the old factory, employing the same ingredients and offering the same "taste" of the vintage instrument. The new "Mark 7" piano was presented at the NAMM show and it was a big success. It's on the market again, after about 20 years, with the same name, same "soul" but largely improved under many important technical aspects.

In a similar manner, MrRay73 Mark II is the second version of MrRay73, after two years from its introduction to the public, but with a huge difference in sound and functionality. While the old MrRay73 was one of the first successfull simulations of such an instrument, capable of offering similar vitality, warmth and richness of the real thing, the new "Mark II" version brings many new improvements, first of all for what concerns "THE SOUND".
As opposite to sample libraries, a real-time reproduction of a certain sound has the ability to interact with the musician, producing different behaviours from time to time. Hardly you will hear exactly the same "waveform" twice. MrRay73 Mark II is a complete digital reproduction of the real instrument, with all the moving parts that, together, generate to the sound.

Summary of the main features:
Full Polyphony (73 notes E - E)
No note-stealing
Adjustable single sound elements (metal, wood, pedal and damper noises)
Sympathetic resonance and harp vibration
Sustain pedal re-pedaling feature
Six-stage vintage style Phaser effect
Dual mode Tremolo effect
Power amp simulation (Suitcase model)
Adjustable wear of mallets and other elements (Piano Age)
Stretch tuning or Equal Temperament
Four velocity curves plus an adjustable "Dynamic range" level
Fully Midi controllable with MIDI-Learn function
Very Low CPU and memory usage
Some details about the sound generation: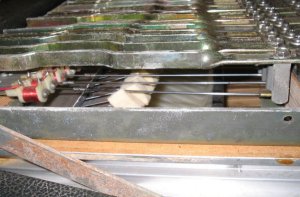 - Full Polyphony & No note-stealing: on the real vintage instrument you have a single "generator" (called "tone-bar") for each single key, so when you hit a key, the corresponding tine is put into vibration thus producing the sound. When you hit it again holding your foot on the sustain pedal, you add further energy to the vibrating tine, but depending on the relationship of the tine and the hammer-tip, you can either add or remove energy with each key press. This causes subtle variations with each note played.

- Sympathetic resonance and harp vibration: when you hold the sustain pedal, all damper felts leave the tines, so they all are free to vibrate, but if you hit a single note, the surrounding tines also get part of the mallet's energy and produce a slight vibration. Also, when the sound of a note decays completely but you are still holding the key down, playing other notes may introduce what's known as "sympathetic resonance". This is more evident on a classic piano, less audible on the electric piano but still there. Part of the vibrations is spread along the whole harp and captured by all pickups, giving the overall tone a more "alive" sensation.

- Sustain pedal re-pedaling feature: when you're playing holding the sustain pedal down, you may release it and depress it again immediately. In this case, the dampers don't stop the tines completely, but still leave a residual vibration. Sometimes, the dampers can even introduce a further energy as if they were "picking" the tines.

- Six-stage vintage style Phaser effect: MrRay73 Mark II also includes a phaser effect. It is modeled after a vintage stomp box of the sixties, sold in Europe under the name "Maestro PS-1". It was a 6-stage phase shifter, one of the first effects of this kind, with a deep and "liquid" tone.

- Dual mode Tremolo effect: the tremolo effect is an essential element of the classic Electric Piano sound of the seventies. In MrRay73 Mark II you can have the effect of the classical analogue tremolo driven by the photo-coupler element which gives you the smooth passage from one channel to the other. As an alternative, you can have the monophonic vibrato like the one found on the classic "Tweed" guitar amplifiers.

- Power amp simulation (Suitcase model): MrRay73 Mark II has a built-in FET power amplifier simulation with three degrees of "power", to bring you the classic tone of the famous "Suitcase" electric piano models. Turning on the simulation, you'll hear a darker tone with a punchy low-end, a slappy attack and a slight saturation on the high-end.



PLEASE NOTE: This plugin is not compatible with Pro Tools for Mac and is not guaranteed to work with 3rd party plugin format adapters. Known issue: may crash Logic 9 on Mac OSX 10.6.x 64 bits.
Some frequently asked questions related to this product:
- MrRay73 Mark II crashes in some versions of Logic/Mainstage.
- MrRay73 Mark II sounds strange if the sample rate is set at 96 KHz.

The great convenience of shareware software is that you can try a free DEMO version before deciding to pay for the FULL version. This gives you the opportunity to test if the software works correctly on your computer and if it meets your needs. If you haven't done it yet, download the free DEMO now!

Most of these softwares have a nag screen and a nag noise protection. In DEMO mode you'll hear a white noise burst for 2 seconds every 10 at a very low volume. There are no other limitations, unless otherwise stated in the product's description page.




Click the

icons to play.

PLEASE! SUPPORT INDEPENDENT SOFTWARE DEVELOPERS by purchasing the software you use. Stay away from fraudulent websites that sell illegal copies of software for a fraction of the original cost and avoid the temptation to download software illegally from peer to peer networks. Your purchase can make the difference between an independent developer being able to create and support their software, and going out of business.

Please buy the software you use directly from the manufacturers' web stores or authorized resellers. If you can't afford the expensive, "big name" software, keep in mind that there is always an affordable alternative out there. Find those alternatives and avoid warez at all costs!

Thank you.
KeyPerformer
VB3
MrRay73mk2
ZD6
EG70
MilesTone
GS-201
Type4
ShakePad
MrTramp2
TimeVerb
WatKat
Legacy