| | |
| --- | --- |
| | |
| | |
| --- | --- |
| DMC-122 Dual Midi Console | v. 1.0 |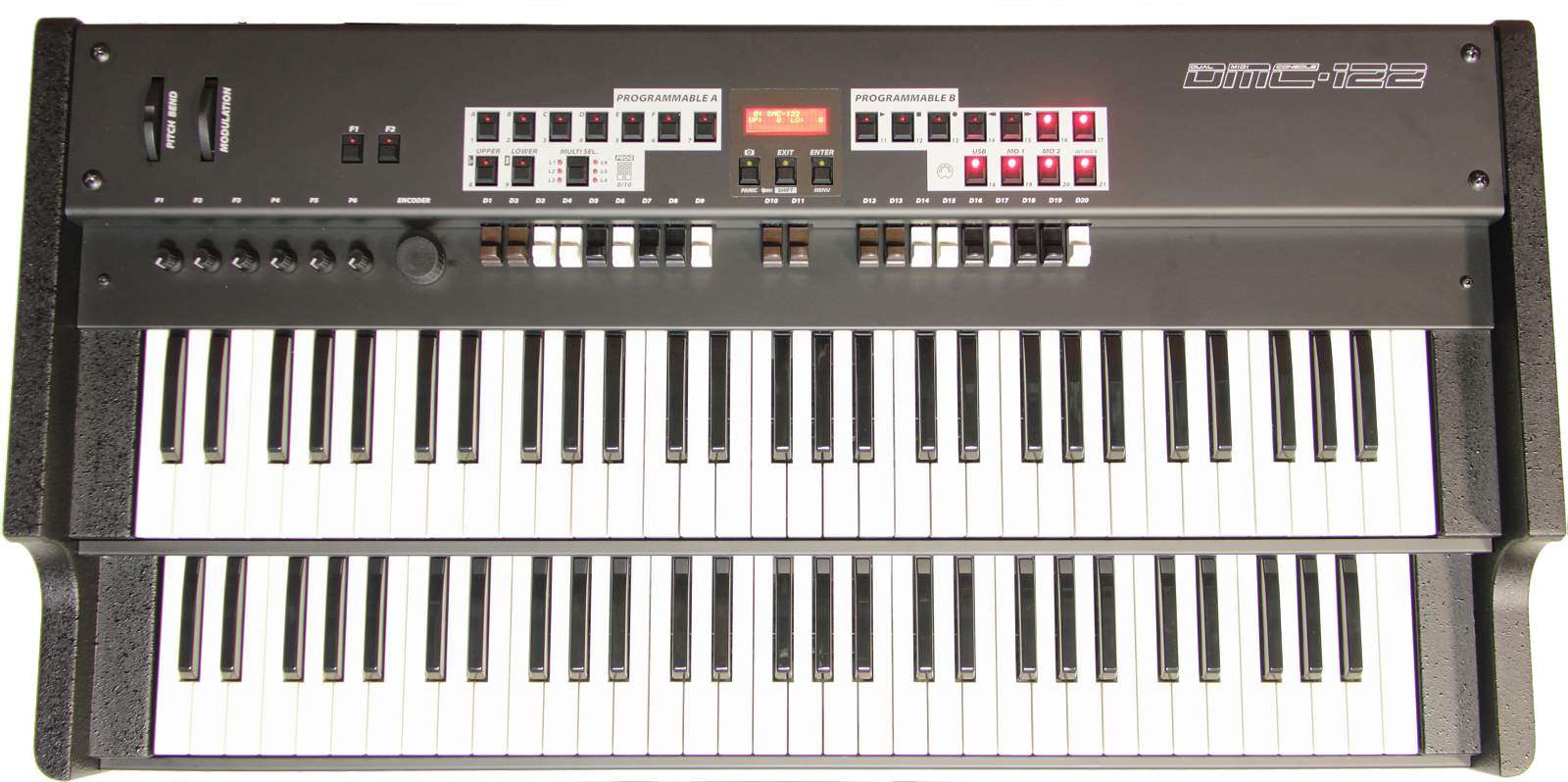 Click image to view the Gallery
Your dream controller
Have you ever dreamed of the perfect MIDI controller for the studio,
the stage and every kind of instrument you wish to play?
Your dream has just come true.

More than just a MIDI controller
The GSi DMC-122 is not only a very solid yet portable dual manual MIDI controller with an organ-style interface.
It offers a full set of features that you won't find in no other controller.
It's a dual manual organ. It's a dual keyboard controller. It's a MIDI mixer, a control surface.

Your creativity's new home.

20 Drawbars, 6 Potentiometers.
1 Encoder, 22 buttons.
1 multiple button.
Pitch bender and modulation wheel.
Two 61-key "waterfall" keybeds
with Channel aftertouch.

Everything totally programmable.

4 individual MIDI outputs.
1 USB-MIDI connection.
2 inputs for continuous pedals.
Assignable sustain pedal input.

Connects to your musical world.
Not only a mute keyboard
The GSi DMC-122 comes with a software editor application compatible with Windows and MacOS.
The editor allows to edit every single control and all global options,
store and organize up to 32 complete setups, create and store three custom velocity curves,
and much more.

At the simple press of a button, the editor program becomes the sound engine
for the DMC-122 offering the sound of VB3 Version 2.



This means that the DMC-122 is not only a "mute" MIDI controller.
It can be your next full featured dual manual tonewheel organ simulator.
And everything is based on the most realistic Hammond B3® simulation ever.



A few screen shots from the Editor application.
Programming a MIDI controller has never been so easy.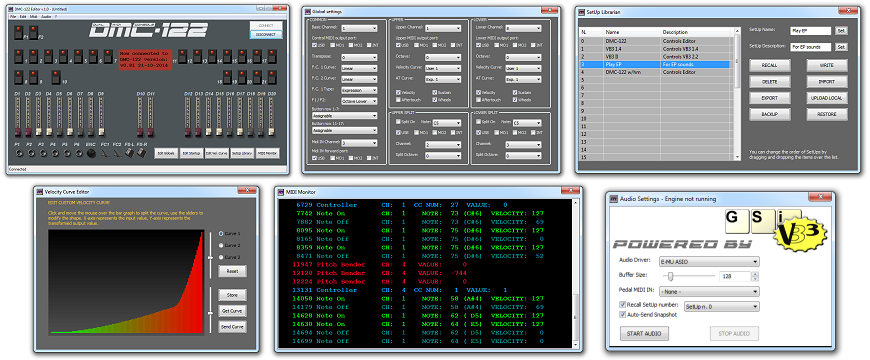 Specifications
Specifications are subject to change without notice
Some frequently asked questions related to this product:
- What's the difference between Crumar Mojo and GSi DMC-122?
- What kind of keybed is mounted on the DMC-122?
- Can I play the DMC-122 Editor in my favorite host?

SITE INFORMATION

Copyright ©
GSi Genuine Soundware and Instruments
VAT.ID: IT04790400263

About
Credits
Privacy

GSi Hardware is manufactured and marketed by V.M.Connection - Italy

All trademarks mentioned in this document belong to their respective owners.



OUR HARDWARE PRODUCTS:

OUR SOFTWARE PRODUCTS:

LEARN MORE ABOUT WHAT WE DO:

Frequently Asked Questions
Contact Us