| | |
| --- | --- |
| | |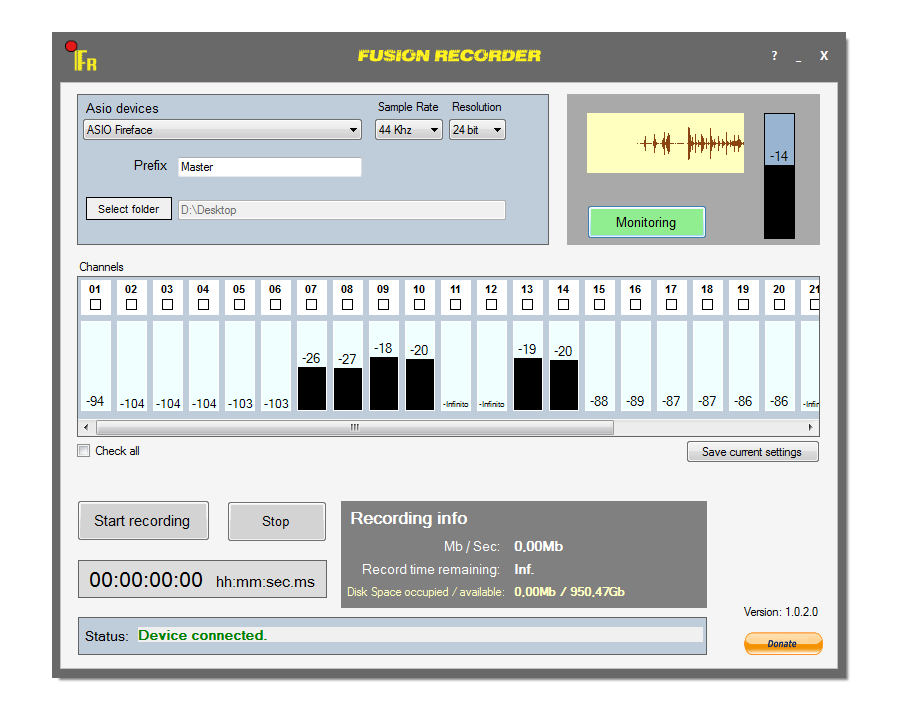 Fusion Recorder
is an audio application programmed by
Michele Picaro
aimed at the multi-track recording from a multi-channel ASIO soundcard (Windows only). It helps making the operation of a multi-track recording session lightning fast, because it's not a D.A.W., is ready in less than one second, doesn't need any extensive configuration, doesn't have to load external modules. Just launch it, select the sound card, select the channels you wish to record and hit REC.
Main features:
Ready in less than one second
Opens any ASIO compatible device driver
Selectable sample rate and bit rate according to device capabilities
Monitors audio levels individually and globally
Displays elapsed recording time, occupied and remaining disk space, and estimates remaining recording time
Very low CPU usage
System requirements:
Windows 7 / 8 / 10 with .NET Framework 4.0 or greater
ASIO Compatible sound device driver
Common questions:
- Is Fusion Recorder a D.A.W. (Digital Audio Workstation)?

No. Fusion Recorder eliminates the need of a D.A.W. for a multi-track recording session. However, it's not capable of playing back the recorded material, you have to use a D.A.W. for that.

- Does Fusion Recorder host VST plugins?

No. Fusion Recorder is just a multi-track audio recorder. It records audio "as is", without any pre or post processing.

- Why should I prefer using Fusion Recorder over a fully featured D.A.W.?

Because it's quick in situations where you just have to record your multi-track audio, for example during a live gig. It's particularly suited for digital mixer with multi-channel digital outputs over USB. It's been deeply tested with a Behringer XR-18 during >3 hours gigs and it always worked flawlessly while the same computer was running the mixer's editing App.

- Can it record audio on a USB dongle?

A USB dongle is seen by the operating system as a removable drive. Of course you can do with it anything you do with any other drive, but a USB dongle is generally slow on the write operations, so it's strongly advised to avoid recording multi-track audio on a USB dongle. It's fine to record on a USB hard-drive or SSD.

- Is Fusion Recorder available for Mac?

No. Fusion Recorder is only available for Windows.

- Is Fusion Recorder a GSi product?

No. Fusion Recorder is a free application made by an independent developer. It's only hosted on the GSi website.

- Can I use Fusion Recorder for my music production job?

Yes. Feel free to use Fusion Recorder for any purpose you like. And if you like this application, please show the developer some love by making a donation.

File last updated: September 09, 2020