The GSi Studio can be defined as a modern "professional home studio"
It was originally born as a home environment mainly for quiet computer works. Painted with warm and relaxing colors, bright, airy and comfortable, with many light spots, mini-bar and air conditioning, it's a nice place to stay for a long working day with music.

Equipped with great modern and vintage gear, offers the necessary versatility for covering a fairly large number of different recording situations, but it is mainly focused to jazz and pop recordings with small bands.

The new heart of the studio is a D&R Cinemix, a really fascinating analog console with a clean and transparent sound and a powerful digital routing system, it has 32 mic inputs and a total of 36 channels which double to 72 inputs on mix. This console has been conceived for surround 5.1 mixing as it has a 6 channel master output and every mono input can be used with traditional L&R panning or LCRS sound positioning, or can be assigned to one of the two XY joysticks.
The digital recording is based on a Antelope Orion 32 computer interface for a total of 32 simultaneous tracks for recording, and 32 outputs for analog (OTB) mixing. The computer is a powerful Windows based machine running Cubase versions 7.5 and Pro 8, the control room monitoring system is based on a pair of Adam A7x studio near field monitors plus two Yamaha HS-50M for more mid-range clarity, while the recording room monitoring system is based on the new astonishing Behringer Powerplay 16.

But the strength point is the presence of a gorgeous and great sounding Hammond organ model A100 from 1963 equipped with a Leslie 147 and a Leslie 145. And that's not all yet! Other fine instruments are a vintage Rhodes piano Seventythree Mark I from 1978, perfectly tuned and balanced, plus a Sequential Circuits Pro~One, a Yamaha DX7, and other vintage and modern keyboards and effects.



Resident gear list
(as of December 2014)
Recording:
Mixing desk: D&R Cinemix, 32 mono + 4 stereo modules, 72 total inputs on mix, 10 aux sends, 24 buss, VCA automation with ALPS motorfaders, surround 5.1 mixing, dynamics on first 24 channels
Near-field monitors: pair of ADAM A7x, pair of YAMAHA HS-50M, one 10" 250W Subwoofer (down to 32 Hz)
Digital recording: Antelope Orion 32 (32 in, 32 out)
Computer: Windows computer with Cubase 7.5, Cubase Pro 8, Wavelab 7
Digital computer based FFT Spectrum Analyzer
Custom built Studio MMC and SMPTE Display with Recording light and DAW control surface with motor-fader and motor-pots
Preamplifiers:
Drawmer 1960
Neve 1073 LB (x 2)
API 512c
SoundSkulptor MP-573
Old School Audio MP-1
Compressors and EQs:
Universal Audio 1176LN, FET Class A limiting amplifier
Empirical Labs Distressor EL-8x
Drawmer 1960, dual valve mic. preamp and compressor
Drawmer DL241, VCA based stereo compressor, gate, and limiter
2x Summit Audio TLA-50, Tube Limiting Amplifier
2x D&R Compressor Limiter half rack format
FMR RNC, stereo VCA (THAT 2181) compressor with digital control
Elysia Xpressor, class A stereo buss compressor
Lindell Audio 7X500, FET compressor
TL-Audio 5013, valve dual 4-band parametric EQ
Reverbs and other effects:
TC-Electronic M-One XL, digital dual multi-effect
Lexicon MX-400, digital quad multi-effect
Alesis Midiverb IV, digital multi-effect
Roland GP-8, vintage analog guitar multi-effect
Roland Chorus Echo RE-501, vintage tape echo machine with spring reverb and BBD chorus
Various modern and vintage analog stomp boxes: MXR Phase 100, EHX Small Stone, EHX Memory Boy, etc.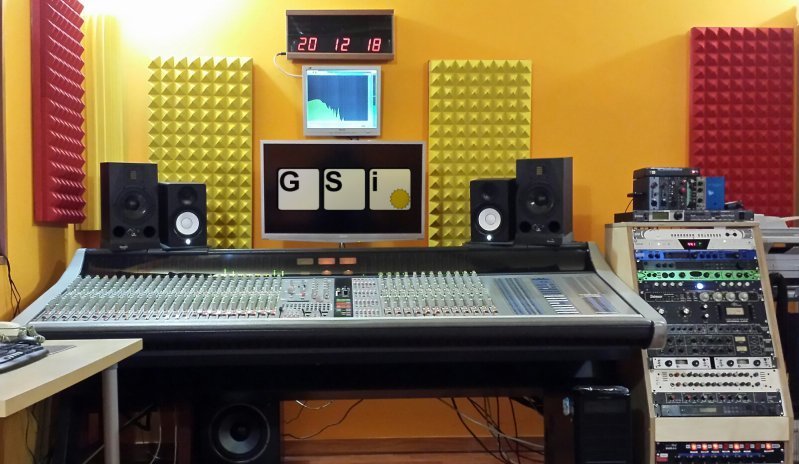 If you have a D&R Cinemix, click here for something you might be interested in.
Other recording gear:
Fostex R8, 8 track 1/4" 15 ips tape machine
Revox A-77, 2 track 1/4" 7-1/2 ips vintage tape machine
MOTU Midi Time Piece AV, Tape-MIDI-WordClock synchronizer and MIDI patch bay
RMG, Quantegy and Zonal tapes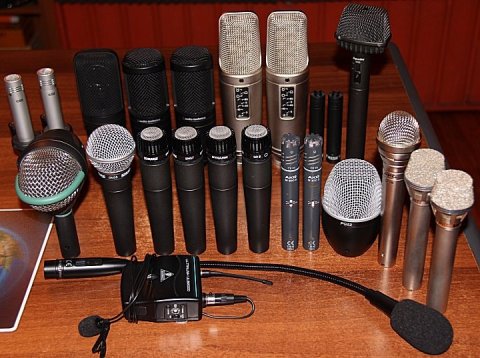 Microphones:
Neumann U87
Audio Technica AT4040
AKG C414
2x Neumann KM 184 (matched pair)
2x Audio Technica AT2020
2x Rode NT-2a
2x Beyerdynamic MCE-530
2x AKG SE-300B with CK-93 capsule (condenser hypercardioid)
5x Shure SM 57
Shure SM 58
Shure PG 52
3x Audix F-90 clip microphones for drums
AKG D-112
Sennheiser E-606
2x AKG D190E
AKG D310
2x Behringer UL2000B, wireless UHF lavalier or headset microphone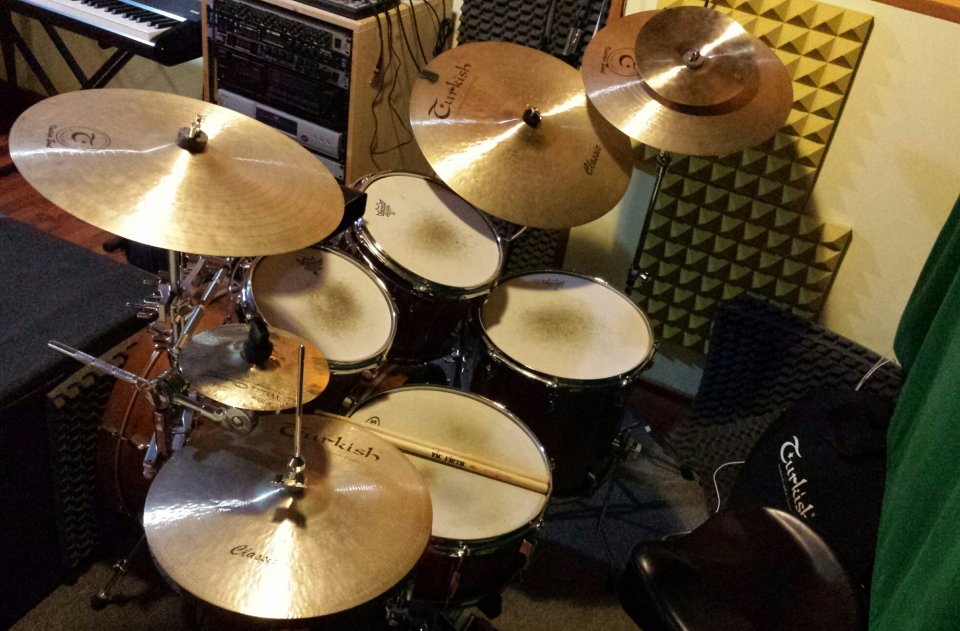 Monitoring for musicians:
Behringer Powerplay 16, digital 16 channel personal monitoring for 5 musicians
Behringer Powerplay HA-4700, 12 outputs headphone amplifier
Headphones: 3x Sony MDR-7506, 2x AKG K-44, AKG K-240, Audio-Technica and Yamaha headphones
FBT Jolly 3a personal monitor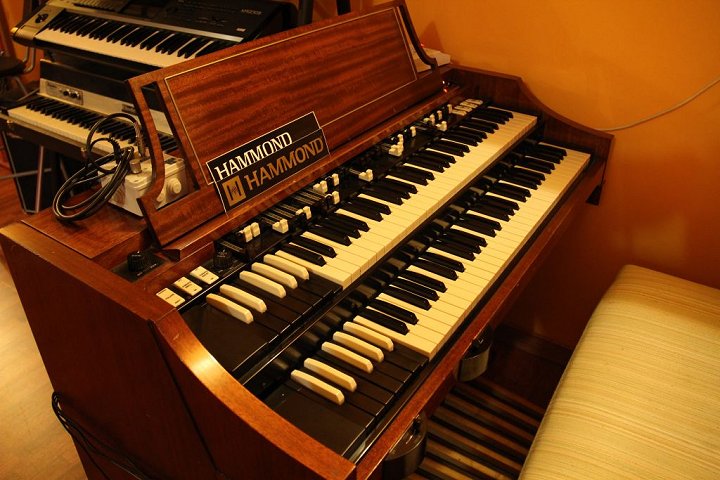 Instruments:
Hammond A100 + Leslie 147 + Leslie 145
Rhodes Mark I Stage 73
Moog MiniMoog
Nord Electro 3
Roland SH-201
Yamaha DX7 and DX7IId
Korg M1
Roland D50
Sequential Circuits Pro~One
DSI Prophet 12
Korg MS-20 Mini
SM Pro Audio V-Machine
Gretsch Catalina Maple, 6 pieces fusion drumset with various heads
Turkish Classic and Vintage Soul series cymbals
Various percussions and accessories
Fender Hot Rod DeLuxe, guitar tube amplifier
Ashdown EB 15-180 Evo II, 180W bass amplifier
Pair of Wharfedale Titan-12, 300 Watts P.A. loudspeakers