November 30, 2018 New Gemini Wavetable Expansion TBLEXP03 and firmware update 1.3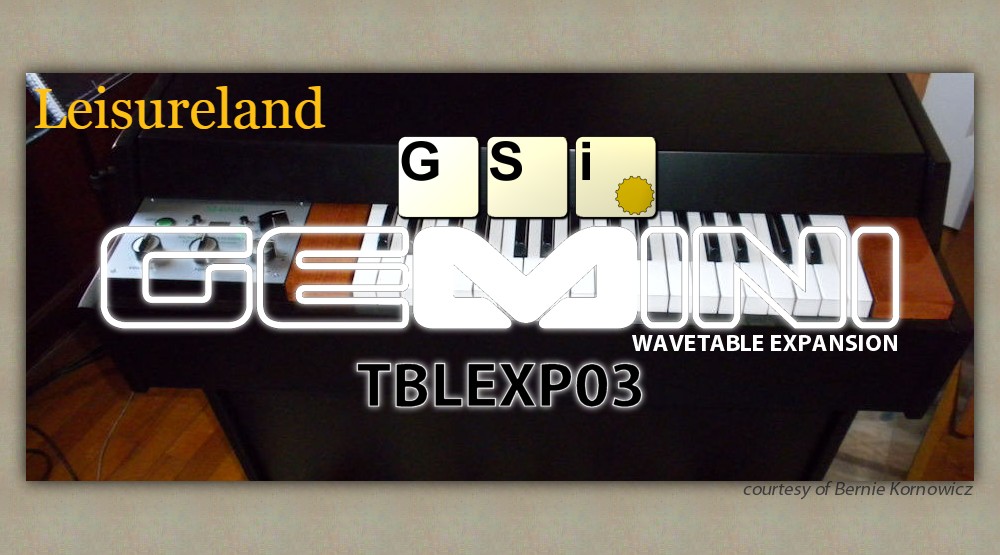 This is the third release of a free wavetable expansion for your GSi Gemini.
Go to the
Gemini download section
and download the
Firmware v.1.3
and the file
Gemini_TBLEXP03.zip
,
read the included PDF sheet before the installation and enjoy the new sounds!
News Archive...
March 23, 2022: New 2022 models for DMC-122, Gemini Desktop, Gemini Rack
March 22, 2022: Venice Grand C5 - New piano multisample for Gemini
February 21, 2022: Gemini new firmware v.1.47 + new Editor v.1.1.1 with BLE support
November 10, 2021: New wavetable expansions for GSi Gemini
September 02, 2021: New Editor for Gemini (Win, Mac, iPad) + Firmware 1.40
April 28, 2021: Professional rackmount 5x5 USB-Midi interface
April 01, 2021: Introducing: VB3m - The mobile version of GSi VB3
March 23, 2021: New plugin updates - March 2021
February 09, 2021: New virtual effect: EQuity, 6 band visual equalizer
February 07, 2020: New virtual effect: TimeVerb-X
October 10, 2019: Venice Grand OPEN piano sampleset for Gemini
September 02, 2019: New virtual effect: GS-201 Mark II
April 08, 2019: Launch of G.M.LAB project - open-source do-it-yourself electronic projects
February 10, 2019: Venice Grand piano sampleset for Gemini
November 30, 2018: New Gemini Wavetable Expansion TBLEXP03 and firmware update 1.3
October 13, 2018: VB3-II updated to v.1.1.1
July 01, 2018: GSi VB3-II official release!
April 17, 2018: Free Gemini Wavetable Expansion - TBLEXP02
February 18, 2017: GS-201 Tape Echo VST now available in 64 bit for Windows
September 26, 2016: Free Gemini Wavetable Expansion - TBLEXP01
April 12, 2016: Gemini now available in stand-alone module format
September 24, 2015: GSi releases the Gemini - Dual DSP Sound Module
December 05, 2014: GSi introduces the DMC-122
August 12, 2014: GSi joins SoundRadix for a discounted bundle!
April 28, 2014: VB3 1.4 x64 VST for Windows

DMC-122
Gemini
5x5
VB3m
VB3-II
GS-201mk2
TimeVerb-X
EQuity
VariSpeed
EasyConvolver
MrRay73mk2
ZD6
EG70
ShakePad