| | |
| --- | --- |
| | |
August 23, 2022 TWO NEW RELEASES FOR WINDOWS, MAC OS AND IPAD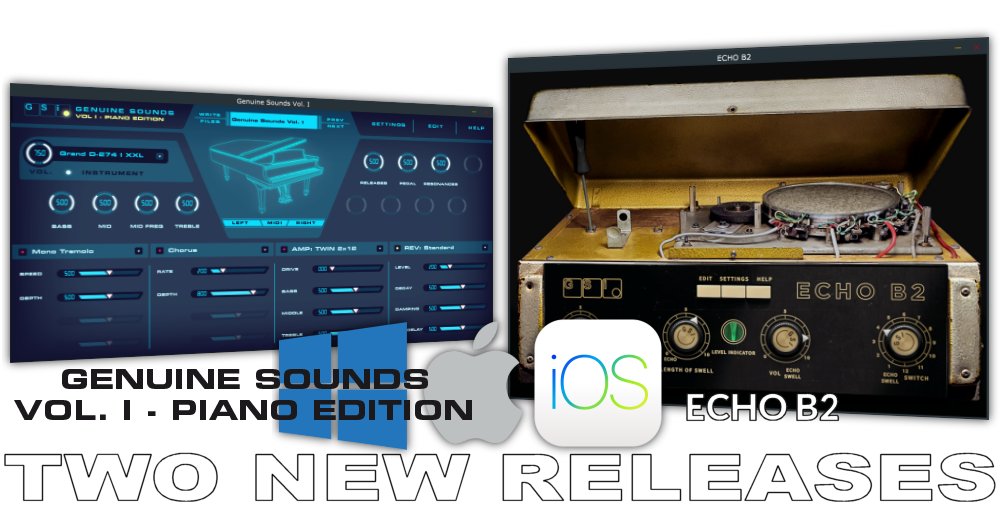 Showing the last 25 news articles...
December 16, 2022: New plugin for Win, Mac & iPad: Drum-80, the drum sounds of the 80's
November 28, 2022: New plugin release: GSi Solo Trumpet - successor to the old "Miles'Tone"
November 08, 2022: New release for iPad, iPhone and Apple Silicon: Phaser Factory!
October 18, 2022: GSiRotary released for iPad
October 04, 2022: A new AUv3 plugin for iPad: ELECTRORCHESTRA
September 21, 2022: GS-201 Mark II released for iPad
September 16, 2022: TimeVerb-X ported to AUv3 for iPad
September 09, 2022: Two more iOS releases
August 23, 2022: TWO NEW RELEASES FOR WINDOWS, MAC OS AND IPAD
August 12, 2022: Introducing: Genuine Sounds Vol. I - Piano Edition (Win + Mac + iPad)
March 23, 2022: New 2022 models for DMC-122, Gemini Desktop, Gemini Rack
March 22, 2022: Venice Grand C5 - New piano multisample for Gemini
February 21, 2022: Gemini new firmware v.1.47 + new Editor v.1.1.1 with BLE support
November 10, 2021: New wavetable expansions for GSi Gemini
September 02, 2021: New Editor for Gemini (Win, Mac, iPad) + Firmware 1.40
April 28, 2021: Professional rackmount 5x5 USB-Midi interface
April 01, 2021: Introducing: VB3m - The mobile version of GSi VB3
March 23, 2021: New plugin updates - March 2021
February 09, 2021: New virtual effect: EQuity, 6 band visual equalizer
February 07, 2020: New virtual effect: TimeVerb-X
October 10, 2019: Venice Grand OPEN piano sampleset for Gemini
September 02, 2019: New virtual effect: GS-201 Mark II
April 08, 2019: Launch of G.M.LAB project - open-source do-it-yourself electronic projects
February 10, 2019: Venice Grand piano sampleset for Gemini
November 30, 2018: New Gemini Wavetable Expansion TBLEXP03 and firmware update 1.3

DMC-122
Gemini
5x5
GenuineSoundsVol1
VB3-II
VB3m
ECHO-B2
GS-201mk2
TimeVerb-X
SoloTrumpet
Drum80
Krill
PhaserFactory
Electrorchestra
EQuity
VariSpeed
EasyConvolver
SITE INFORMATION

Copyright ©
GSi Genuine Soundware and Instruments
VAT.ID: IT04790400263
About
Credits
Privacy
GSi Hardware is manufactured and marketed by V.M.Connection - Italy

All trademarks mentioned in this document belong to their respective owners.



OUR HARDWARE PRODUCTS:

OUR SOFTWARE PRODUCTS:

LEARN MORE ABOUT WHAT WE DO:

Read the F.A.Q.