March 15, 2010 VB3 updated to version 1.3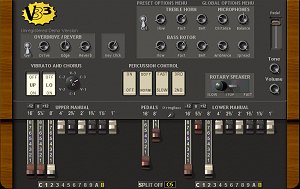 Hey Virtual-Tonewheelers and Drawbar addicts! There's a good news for you all! VB3 has been updated to version 1.3 with important bugfixes and optimizations and two of the most requested features:

VB3 now supports the use of the sustain pedal for... sustaining notes!
and...
VB3 1.3 introduces the new "Advanced MIDI Learn" function that enormously extends the number of compatible hardware controllers.

Please feel free to download and install the update by overwriting the old executables. VB3 1.3 is backwards compatible with previous versions, so nothing will change within your saved projects. Also, it's important to notice that practically nothing changes sound-wise, the DSP part is identical to version 1.2.2. This new release just covers some of the urgent changes that many people kept asking in the last 18 months.

Have Fun!
News Archive...
February 07, 2020: New virtual effect: TimeVerb-X
October 10, 2019: Venice Grand OPEN piano sampleset for Gemini
September 02, 2019: New virtual effect: GS-201 Mark II
April 08, 2019: Launch of G.M.LAB project - open-source do-it-yourself electronic projects
February 10, 2019: Venice Grand piano sampleset for Gemini
November 30, 2018: New Gemini Wavetable Expansion TBLEXP03 and firmware update 1.3
October 13, 2018: VB3-II updated to v.1.1.1
July 01, 2018: GSi VB3-II official release!
April 17, 2018: Free Gemini Wavetable Expansion - TBLEXP02
February 18, 2017: GS-201 Tape Echo VST now available in 64 bit for Windows
September 26, 2016: Free Gemini Wavetable Expansion - TBLEXP01
April 12, 2016: Gemini now available in stand-alone module format
September 24, 2015: GSi releases the Gemini - Dual DSP Sound Module
December 05, 2014: GSi introduces the DMC-122
August 12, 2014: GSi joins SoundRadix for a discounted bundle!
April 28, 2014: VB3 1.4 x64 VST for Windows
March 10, 2014: Tony Monaco introduces the GSi BURN
February 02, 2014: From abandonware to rescueware: Key Performer 2
November 03, 2013: BURN Editor / Librarian released!
October 28, 2013: BURN Firmware update version 1.01
September 16, 2013: BURN is now shipping!
April 10, 2012: New sounds for Key Performer
January 12, 2011: Three new free samplesets for Key Performer
June 20, 2010: VB3 updated to version 1.4
March 24, 2010: New demo video of Key Performer

DMC-122
Gemini
VB3-II
GS-201mk2
TimeVerb-X
KeyPerformer
MrRay73mk2
ZD6
EG70
ShakePad
WatKat