October 28, 2013 BURN Firmware update version 1.01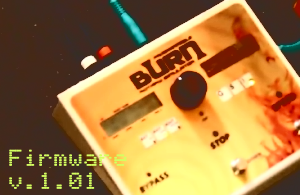 The new BURN firmware version 1.01 is now available. Please download and install it into your BURN, this will improve it and fix a few bugs. Most importantly, this firmware features a new "Rock 147" rotary algorithm derived from the same effect also found in VB3 1.4.

Other important changes feature the addition of a new template for controlling rotary speeds via spring-loaded Pitch/Mod joysticks, a new option for boosting the digital output, and the support for the upcoming Editor/Librarian.

Please read all documentations prior to sending the firmware to the BURN. The procedure is very easy and is explained in detail in the accompanying pdf guide.

Have Fun!
News Archive...
September 02, 2021: New Editor for Gemini (Win, Mac, iPad) + Firmware 1.40
April 28, 2021: Professional rackmount 5x5 USB-Midi interface
April 01, 2021: Introducing: VB3m - The mobile version of GSi VB3
March 23, 2021: New plugin updates - March 2021
February 09, 2021: New virtual effect: EQuity, 6 band visual equalizer
February 07, 2020: New virtual effect: TimeVerb-X
October 10, 2019: Venice Grand OPEN piano sampleset for Gemini
September 02, 2019: New virtual effect: GS-201 Mark II
April 08, 2019: Launch of G.M.LAB project - open-source do-it-yourself electronic projects
February 10, 2019: Venice Grand piano sampleset for Gemini
November 30, 2018: New Gemini Wavetable Expansion TBLEXP03 and firmware update 1.3
October 13, 2018: VB3-II updated to v.1.1.1
July 01, 2018: GSi VB3-II official release!
April 17, 2018: Free Gemini Wavetable Expansion - TBLEXP02
February 18, 2017: GS-201 Tape Echo VST now available in 64 bit for Windows
September 26, 2016: Free Gemini Wavetable Expansion - TBLEXP01
April 12, 2016: Gemini now available in stand-alone module format
September 24, 2015: GSi releases the Gemini - Dual DSP Sound Module
December 05, 2014: GSi introduces the DMC-122
August 12, 2014: GSi joins SoundRadix for a discounted bundle!
April 28, 2014: VB3 1.4 x64 VST for Windows
March 10, 2014: Tony Monaco introduces the GSi BURN
February 02, 2014: From abandonware to rescueware: Key Performer 2
November 03, 2013: BURN Editor / Librarian released!
October 28, 2013: BURN Firmware update version 1.01

DMC-122
Gemini
5x5
VB3m
VB3-II
GS-201mk2
TimeVerb-X
EQuity
VariSpeed
EasyConvolver
MrRay73mk2
ZD6
EG70
ShakePad