February 02, 2014 From abandonware to rescueware: Key Performer 2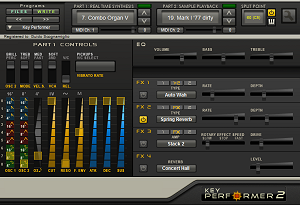 On March 2009 GSi launched Key Performer, an hybrid sample player and real time synthesis instrument offering a complete palette of sounds largely used by keyboard players. Well, I have been working hard on a version 2 that would offer new sounds, new features and bi-timbrality, but eventually I abandoned the project in mid-2012 because I gave priority to other projects. Now I was thinking of offering this plugin as a free update to all existing KP1 users, in a beta version, Windows only (32 bit and 64 bit VST) and without documentation. What do you think?

"Like" our Facebook official page and leave us your comments!
News Archive...
March 23, 2022: New 2022 models for DMC-122, Gemini Desktop, Gemini Rack
March 22, 2022: Venice Grand C5 - New piano multisample for Gemini
February 21, 2022: Gemini new firmware v.1.47 + new Editor v.1.1.1 with BLE support
November 10, 2021: New wavetable expansions for GSi Gemini
September 02, 2021: New Editor for Gemini (Win, Mac, iPad) + Firmware 1.40
April 28, 2021: Professional rackmount 5x5 USB-Midi interface
April 01, 2021: Introducing: VB3m - The mobile version of GSi VB3
March 23, 2021: New plugin updates - March 2021
February 09, 2021: New virtual effect: EQuity, 6 band visual equalizer
February 07, 2020: New virtual effect: TimeVerb-X
October 10, 2019: Venice Grand OPEN piano sampleset for Gemini
September 02, 2019: New virtual effect: GS-201 Mark II
April 08, 2019: Launch of G.M.LAB project - open-source do-it-yourself electronic projects
February 10, 2019: Venice Grand piano sampleset for Gemini
November 30, 2018: New Gemini Wavetable Expansion TBLEXP03 and firmware update 1.3
October 13, 2018: VB3-II updated to v.1.1.1
July 01, 2018: GSi VB3-II official release!
April 17, 2018: Free Gemini Wavetable Expansion - TBLEXP02
February 18, 2017: GS-201 Tape Echo VST now available in 64 bit for Windows
September 26, 2016: Free Gemini Wavetable Expansion - TBLEXP01
April 12, 2016: Gemini now available in stand-alone module format
September 24, 2015: GSi releases the Gemini - Dual DSP Sound Module
December 05, 2014: GSi introduces the DMC-122
August 12, 2014: GSi joins SoundRadix for a discounted bundle!
April 28, 2014: VB3 1.4 x64 VST for Windows

DMC-122
Gemini
5x5
VB3m
VB3-II
GS-201mk2
TimeVerb-X
EQuity
VariSpeed
EasyConvolver
MrRay73mk2
ZD6
EG70
ShakePad