More views: 1 - 2 - 3 - 4 - 5 - 6 - 7 - 8 - 9 - 10 - 11 - 12 - 13 - 14 - 15



The GSi BURN has been conceived for the modern musician, it is ready to be integrated into any set-up, either basic or complicated. It is built as a traditional stomp-box with three pedals for BYPASS, STOP/RUN and SLOW/FAST but can be controlled in a number of ways according to the musician's needs. Are you a keyboard player? A guitarist? Will you use it in your studio set-up? BURN can integrate into your musical environment any way you like. Imagine you wish to add a high quality realistic Rotary Speaker effect to your workstation keyboard but you don't want to have a stomp box under your feet. Just connect the stereo output to the BURN, you can call the True Stereo BYPASS via the foot pedal or by sending a MIDI Control Change event, or you can even save a preset with the Bypass engaged and recall it via MIDI Program Change. There are 32 presets but you can map them to any one of the 127 Program Change numbers.

BURN is more than just a Rotary effect stomp-box. Will you use it for reamping your pre-recorded tracks? You can control the Rotary speeds by sending custom MIDI CC messages or use one of the pre-set configurations (derived from some of the most common "clonewheel" organs).

You wish to play your vintage tonewheel organ at home without disturbing the neighbors? Hook it up to the BURN and use its built-in headphone output, and enjoy the hypnotic stereo image of the different Rotary simulations.

Virtually everything you wish to do with the BURN can be easily done, no matter if you are an organist, keyboardist, guitarist or a sound engineer. You put the music, BURN makes it hot!



The GSi BURN features:
Tube Distortion
MIDI Input and Thru
12 different Rotary effects
Other effects of static amps, modulations, delays, reverbs, etc.
Digital stereo reverb on all effects
32 Programmable presets
LCD Character display with backlight
7 real time parameters and up to 15 additional parameters per preset
Full MIDI control with freely assignable controllers
True stereo bypass
Separate Left and Right 1/4" jacks for input and output
Remote control via optional foot switch, half-moon switch or expression pedal
Built-in stereo headphone amplifier with volume control
Easily upgradable via MIDI
Free Preset Editor / Librarian for Windows and OSX (requires special MIDI OUT ADAPTER)
Comes with a free plastic case!
Specifications are subject to changes without notice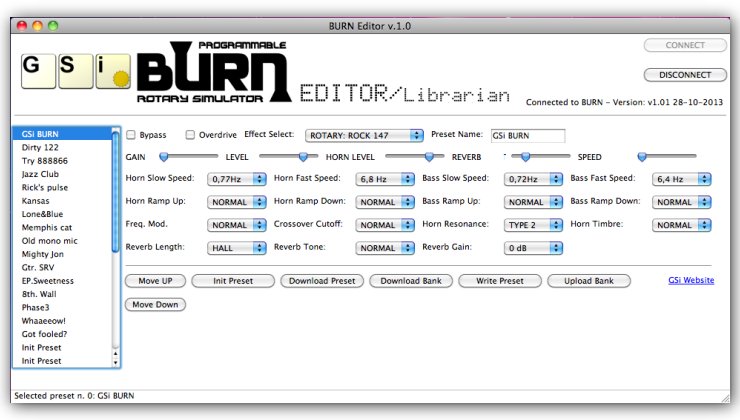 Courtesy of jazz organist Joe Doria from Seattle: