November 03, 2013 BURN Editor / Librarian released!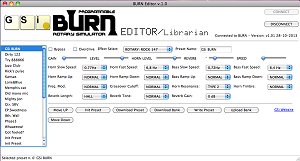 Seems incredible how many things can be done with a small box like the BURN! Not only it's a killer rotary simulator, it is a multi effect and a totally programmable versatile unit. And now its possibilities are further expanded thanks to the PC Editor/Librarian, which will allow the user to edit, organize, backup, restore and share their presets.

The Editor can be used either online (BURN connected via MIDI) or offline (BURN not connected). Everything you do when the program is online is automatically reflected to the BURN. And if you don't have a BURN yet, you can try the Editor just to discover how a preset is organized and which parameters you can customize.

Have fun!
News Archive...
April 28, 2021: Professional rackmount 5x5 USB-Midi interface
April 01, 2021: Introducing: VB3m - The mobile version of GSi VB3
March 23, 2021: New plugin updates - March 2021
February 09, 2021: New virtual effect: EQuity, 6 band visual equalizer
February 07, 2020: New virtual effect: TimeVerb-X
October 10, 2019: Venice Grand OPEN piano sampleset for Gemini
September 02, 2019: New virtual effect: GS-201 Mark II
April 08, 2019: Launch of G.M.LAB project - open-source do-it-yourself electronic projects
February 10, 2019: Venice Grand piano sampleset for Gemini
November 30, 2018: New Gemini Wavetable Expansion TBLEXP03 and firmware update 1.3
October 13, 2018: VB3-II updated to v.1.1.1
July 01, 2018: GSi VB3-II official release!
April 17, 2018: Free Gemini Wavetable Expansion - TBLEXP02
February 18, 2017: GS-201 Tape Echo VST now available in 64 bit for Windows
September 26, 2016: Free Gemini Wavetable Expansion - TBLEXP01
April 12, 2016: Gemini now available in stand-alone module format
September 24, 2015: GSi releases the Gemini - Dual DSP Sound Module
December 05, 2014: GSi introduces the DMC-122
August 12, 2014: GSi joins SoundRadix for a discounted bundle!
April 28, 2014: VB3 1.4 x64 VST for Windows
March 10, 2014: Tony Monaco introduces the GSi BURN
February 02, 2014: From abandonware to rescueware: Key Performer 2
November 03, 2013: BURN Editor / Librarian released!
October 28, 2013: BURN Firmware update version 1.01
September 16, 2013: BURN is now shipping!

DMC-122
Gemini
5x5
VB3m
VB3-II
GS-201mk2
TimeVerb-X
EQuity
VariSpeed
EasyConvolver
MrRay73mk2
ZD6
EG70
ShakePad